You already know! Every month we feature someone for the Celmatique Style Feature.
Our next favorite is the yung inspirational Kimberly Anthoy | @kimberlyskinny

1. Okay girl, so tell me, what's your full name and age?
My name is Kimberly Anthony and I'm 24 years old
2. You are living in beautiful Paris – born and raised? What inspires you the most of Paris and why?
Yes I live in Paris for a long time now but I was born in Ghana. I spent my first years of life in Togo. I always lived in the suburbs of Paris but used to go to Paris for work or just chill with my friends. I think suburbs and Paris itself are 2 totally different worlds but in both of them, people who live there and the beauty of the streets; all that culture, it inspires me everyday.
3. So on Instagram you call yourself @kimberlyskinny, what is the story behind this name and why did you decide to use it for your Instagram account?
Well Kimberly is my name and I'm naturally skinny. It's what people tell me every time they see me: "Omg you're so skinny." .. Yeah I know, lol. So to not fool people, because I love wearing loose outfits. I'm Kimberlyskinny a tiny girl wearing heavy 'fits, LMAO!
4. Can you describe what your slogan "Daily Dose of Kay" particularly means?
Daily Dose Of Kay: it's because I got fashion in my blood, it's like a drug for me. I just want to spread that and get people addicted, like me! But in this case « getting your daily dose » is only about sharing looks and good energies.
5. In your bio, you describe your style as masculine and feminine; can you tell me more about it?
Because it's all I am! Deep, inside and out. At a time being a tomboy was kind of an insult, you know. And all my girlfriends were really feminine, I was the 'boyfriend'. I used to be ashamed, but ashamed of what? Playing video games with my brother? For him teaching me how to protect myself and to be confortable wearing what I want? Hell nah! Nevertheless I'm still a (real) girl: wearing make-up, boyfriends, parties & all that, just everything like everyone else. Once I was grown enough to understand that what used to be seen as a weakness or unattractive is actually what made me that singular person I am proud of today. I just wanted to express it through my style.
6. Who is your style idol and why?
I ain't got no style idol! People always ask me this question but really so far I don't have someone I idolize. I admire my entourage for what they accomplish everyday because you know, growing up in the suburbs of Paris on your own, for young people like us, ain't that easy in reality! I'm just focused on doing me and trying to have a better life for me and my fam.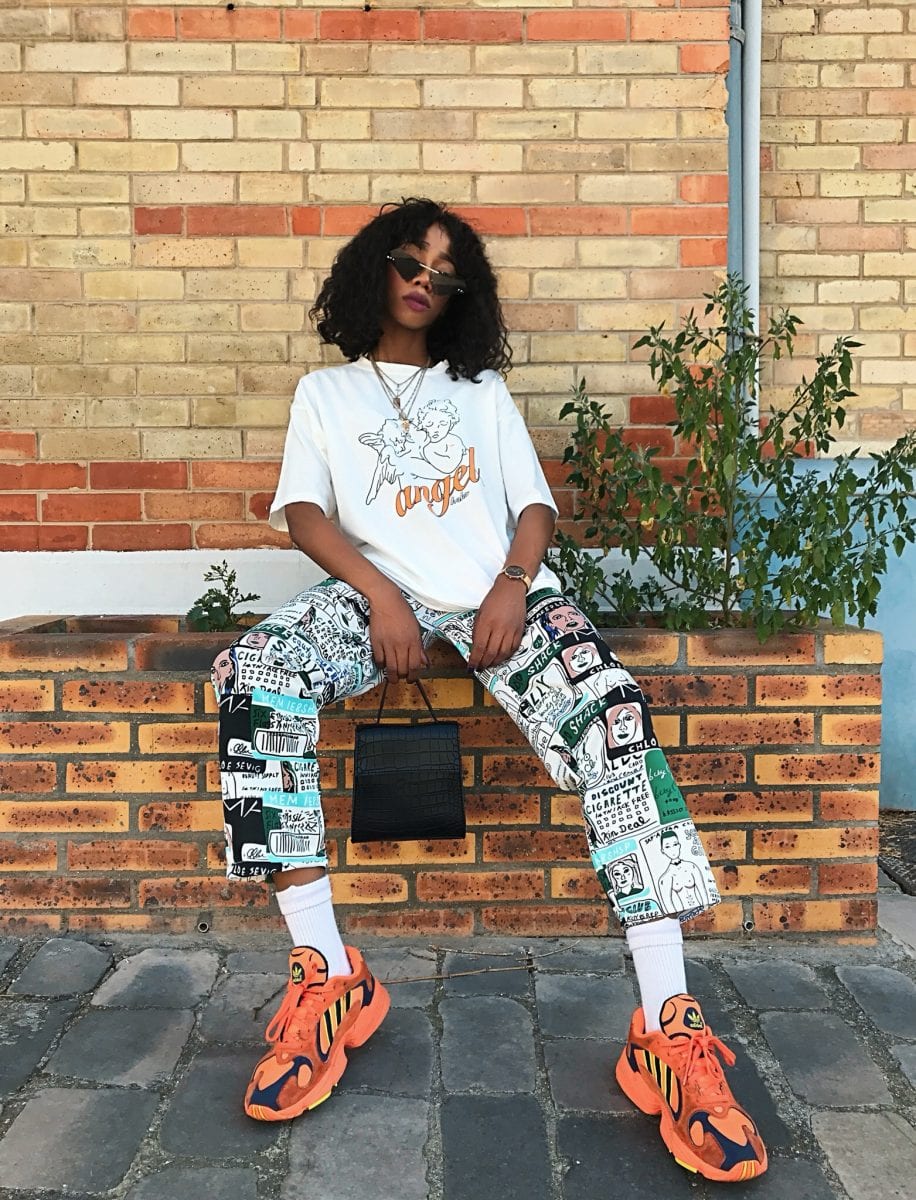 7. What would you advice people who haven't found their style yet?
Dare! Don't be afraid of trying new things to discover yourself. With time you will know what suits you and what doesn't, what you like and what you don't like. Your style will be defined by itself. Just let it « bloom » and cultivate that way. Get inspired by anything, everything, but just make sure to feel comfortable of wearing what you really want.
8. I see that you are a real sneaker head; do you have a favorite brand or shoe?
Yeah I really love sneakers and have the luck that I own some really cute ones lately! I don't have a particular favorite brand but I have to admit that adidas and Reebok are the 2 brands I'm wearing the most in my daily life!
9. What did you do before working in the fashion business? How did you start and is it your full-time job?
I was a student. Once I had the opportunity to work as a press assistant in a PR agency, that made me want to go deeper in the fashion world and I developed my visual sense through the years. Now I'm a visual Merchandiser and a Fashion influencer. So yeah, I get it's a full time job in any way lol.
10. Have you always wanted to work in the fashion industry or did you have another dream job?
Being an art director will always be my dream. I've always wanted to develop and execute a project using my own vision. That would be an accomplishment to me! Being a buyer is one of my dream jobs as well! I would love to experience having an eye for latest trends all over the world and provide that information to a company. It seems like a big experience!
11. What's you're most valued accomplishment so far?
I wake up every morning, go to work like every other person. I'm just trying to make my own money. My biggest accomplishment so far is being considerate good at what I do, because it's what I love, you know.. But once my work will really pay off I will tell myself that it wasn't easy, but I've done it.
12. Last but not least, why do you think you have been approached for Celmatique Style Feature?
Hahaha! I think that you are looking for authentic personalities that have a unique style. People who have eye-catching visuals that make you want to get behind it. People like me – who are being themselves the best way they can 🙂