Nine handsome men, best backdrops and their matching outfits & sneakers: the ALL FOR THE KICKS men's edition is finally here!

We have been working very hard on this project and I'm happy to say the outcome is even better than expected.
Let me refresh your memory
Let's just go all the way back to October 2014, when the first ALL FOR THE KICKS was born. I collected all of my best lady friends and their sense of style (and addiction for kicks .. hehe) and put that in one project. The concept? Chicks on kicks look good, even when they're not dressed half naked.
Celeste, the young sneaker lover
I always loved sneakers. Ever since I was a young gal – and too young to collect the sneakers themselves – I collected pictures of them, illustrations, posters, what so ever. I remember cutting out pics from magazines. and pasting them on my wall or door. Oh, and of course I wanted to get my hands on as many Sneaker Freaker Magazine issues as possible. I ended up having 5 of them… Haha!
Anyway, I never became a true sneakerhead, but my love for the kicks never left. After the first AFTK serie, I got a lot of positive reactions. Since I'm all about matching outfits with backgrounds, I kind of made it my own thing. I figured out quite soon I wanted AFTK to expend its horizon, and so, I came up with the mens edition.
ALL FOR THE KICKS stands for the total package, but of course: it all starts with the shoe. The first ALL FOR THE KICKS edition included 8 females, but we thought we'd give you (ladies) a nice cherry on top this time! Yep, now the team consists of nine fellows! Read the individual stories of the guys below, check out the pictures and then tell me it's not as awesome as it is?! Haha.
Love!
FLOYD VAN JOOST (27)
NIKE FOOTSCAPE WOVEN // NIKE AIR MAX 90
"If I have to describe my sneaker life in one word it would be "outworn". It took me at least 10 years to learn that you shouldn't rock your favorite pair every day if you want to keep them somewhat fresh in the long run. Therefore I used to be a terrible collector and kind of gave up on this, or at least on collecting wearable pairs that are not disrespecting the culture in some sense.
I embraced my habit of non-stop same shoe rocking. This resulted in mostly buying timeless icons, in super versatile colors such as black. Or white. However, I can't help to make some serious exceptions every now and then."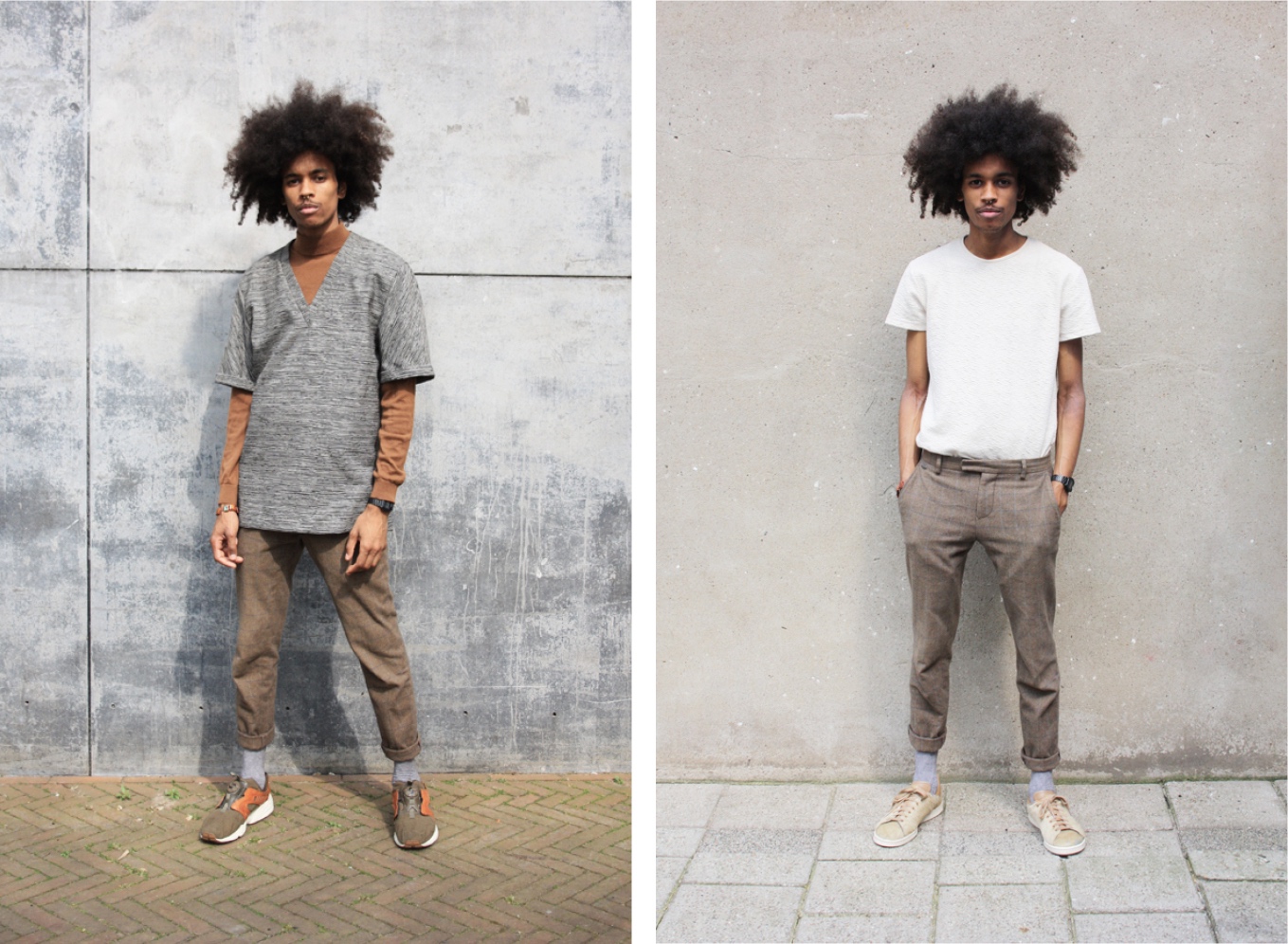 JOSIMAR GOMES (23)
PUMA DISC BLAZE // ADIDAS ORIGINALS STAN SMITH
"I usually tend to look for the most weirdest, but comfortable, eye-catchers that I can possibly find when I'm looking for sneakers or shoes in general. Whether it's the brown pony hair on my Stan Smith's or the green felt on my Puma Disc Blaze's, all my shoes just need to have that extra edge before I decide buying them. I also cop shoes that'll compliment my personal style, I'd wear clothes that have the same colour tones for example. My favorite pair of shoes (not on these photos) are my Clarks Trigenic Flex'. This sophisticated pair of shoes don't look like the average sneaker, plus it also has a very obscure looking sole that I absolutely love."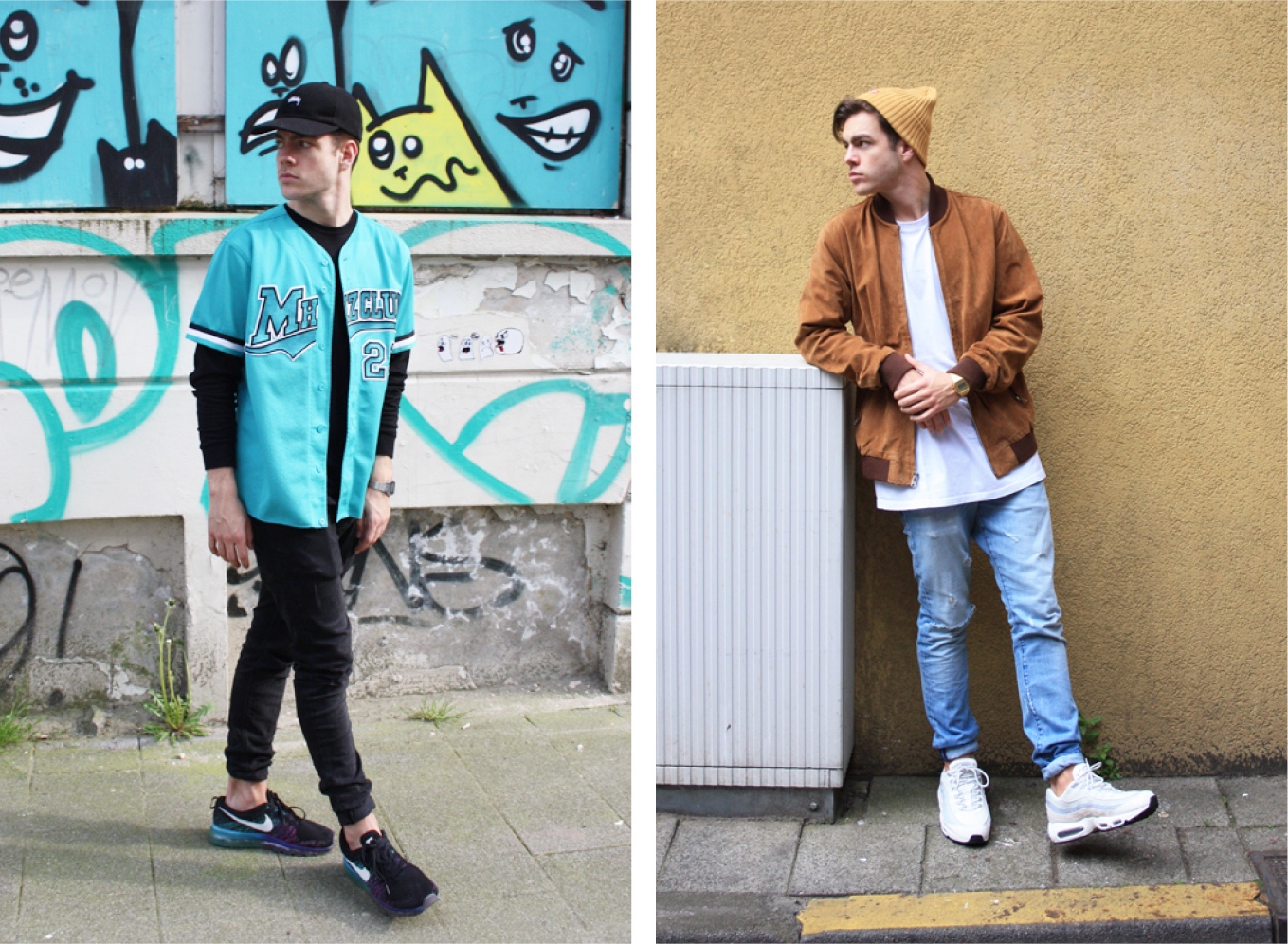 DAAN ZAHRADNIK (21)
NIKE AIR MAX FLYKNIT // NIKE AIR MAX 95
"I was born with a pair of sneakers. Not literately, but my first pair of baby shoes were a pair of Adidas originals. When I got older I always thought sneakers made me run faster, which to me was very helpful when playing like I was in the army or the Star Wars game with my school friends. Nowadays I buy sneakers to complete my outfits: yet I always begin with what shoes I'm going to wear. Unfortunately I'm still studying which means I'm always low on cash, aka I can't buy new shoes every week. But someday I will and fill my entire house with them. And .. I'll give my future kids the fastest sneakers they've ever ran with. Or I'll just give them my first pair, 'cause I'm always keeping those first pair of Adidas originals!"
CHRIS JOHNSON (25)
VANS SK8 HIGH // PUMA CREEPER
"I've been buying/collecting sneakers for 'bout the past 10 years, now. Started back in high school just for the love of the culture. Not saying the sneaker game is in a bad place, but now days it's a little different. A lot of FuckBoys, that don't have a real appreciation for the culture and rather just buy into the hype! But that's my opinion… I've camped days for sneakers, in the past. These days stores want to raffle off everything… and "I get it". But let the kids camp. Keep the culture alive!
My craziest experience, in regards to sneakers, was most recent actually. A couple weeks ago I was in LA searching all over the city, for a pair of Y-3's. PureBoost ZG Knit to be exact. I get to the store. As I'm walking in the boutique, Jada Pinkett is walking out! Now, as soon as I see her, I immediately know it's Jada Pinkett. But in my mind, it doesn't register … just yet. I step aside, so she can get out the door and she stops and looks at me w/ them hazel eyes, then walks up to me. Complements me on my outfit, says "I'm loving everything about you, you're giving me LIFE right now!" We exchanged a quick few words, then she was gone… Lol, like wtf, did that really just happen?!
Long story short. I get in the store, they have the shoes… but NOT my size. Saaaul good, though. At that point I could give 2 fucks about those sneakers, Jada Pinkett just chose me!"
CHARLES QUARTEY (26)
ASICS GEL LYTE III // BOTH PAIRS
"Sneakers and flip flops are pretty much all I know! I can't imagine anything else on my feet as I'm up and running from the moment I wake up till I sleep. When it comes down to buying a pair of kicks the first thing I ask when I enter the store is: "Show me all you got in 39, please". That slims it down to a pair or three… Now, I won't take all the credit for these two pairs.. I actually got a little help from my girlfriend who has mastered the art of shopping and knows a thing or two about color. In the end I decided to go with these two pairs because as much as I want my life to be all funk and fun, I need to be representative yet creative if I want to show up to a meeting being the only one without a suit and leathers."
BARIS BEKTAS (24)
NIKE AIR TRAINER 3 PRM QS // PUMA SUEDE
"To be honest, I'm not a real sneakerhead like the guys who like to collect them. My kicks don't have to be exclusive and all that. I just buy the ones that I like, like the ones I'm wearing on these two pics for this project.
I usually buy my shoes at random times, even when I don't have the money for it. Like the Nike's you see on the left picture, there's actually a story behind it. I bought these when I heard that I needed surgery (carpal tunnel syndrome). So to cheer myself up I treated myself to this pair. It definitely worked: it made me feel happier, more than I could actually imagine at that very moment.
The Puma's I'm wearing on the right, well, I actually didn't want to buy them at first! Since they're made of suede, its harder to keep them clean. I really suck at keeping suede (or white) shoes neat. So I wasn't quite sure about purchasing them. In the end a friend of mine convinced me and I found myself thinking: "yeah, why not?".  I ordered them online and once they arrived, I fell in love with them. But yeah, now I'm dealing with the struggles to keep them clean. Nah, just kidding. I'm just extra careful when I wear my Puma's!"
ERICK NIEUWKOOP (24)
NIKE INNEVA WOVEN // NIKE CORTEZ  
"I'm (currently) working at an office where my colleagues aren't bothered by me wearing crispy clean Stan Smith's every now and then. Though more often than not my feet tend to find themselves in a pair of brogues, wingtips or monks. I like and enjoy handmade Italians but nothing compares to my beloved Nikes. As the weekend draws closer I'm eager to wear some lightweight athletic soles again. My all time favorites, you ask? Those must be the AM 1 HOA's. Here on the right picture you can see a pair of dark brown leather Cortez I found on freshcotton.com. A few moments after I ordered them they were already sold-out. On the left picture you see the Inneva Woven "Armory Navy's". I bought these during a family visit in Paris at the Nike store on the Champs-Élysées.  Seeing as I'm not that dude who's willing to break the bank for a pair, I eagerly let out a little HOORAY every time that I get myself a new pickup for a good deal. I'm Erick Nieuwkoop (24 y/o), and when I'm not working I spend the most of my spare time eating, writing and wandering through cities with my girl."
RUBEN FLACH (20)
NIKE CORTEZ CLASSIC NYLON // NIKE SB ZOOM STEFAN JANOSKI
"At the age of four I wanted to be a clown. At eleven I wanted to be an artist. Ever since that day I pushed both passions to the limit, to become the goofy portrait artist (who wants to be taken serious) I am today.
That same year I acknowledged my drawing skills, and I shared my Nike Court sneakers with my former and current best friend. After I had worn out several pair of kicks, I went straight to the store for the same shoe, but with the blue swoosh. One day my best friend got the brilliant idea to switch one shoe. Both wearing a different color of Court kicks, we took a run through school during our yearly summer festival.
Coming home all exhausted, I fell asleep on the couch immediately, not thinking about the shoe at all. Right before his mother would find out about our kick-switch, he rushed to my house to get his shoe back. My mom let him in, knowing she saved him from a huge can of whoop ass.
I am not a sneakerhead, but you could say I am a collector. While I'm creating more hyperrealistic portraits, I'm looking for my third pair of Nike Cortez. And my girlfriend is keeping me from buying my eighth pair of Vans…"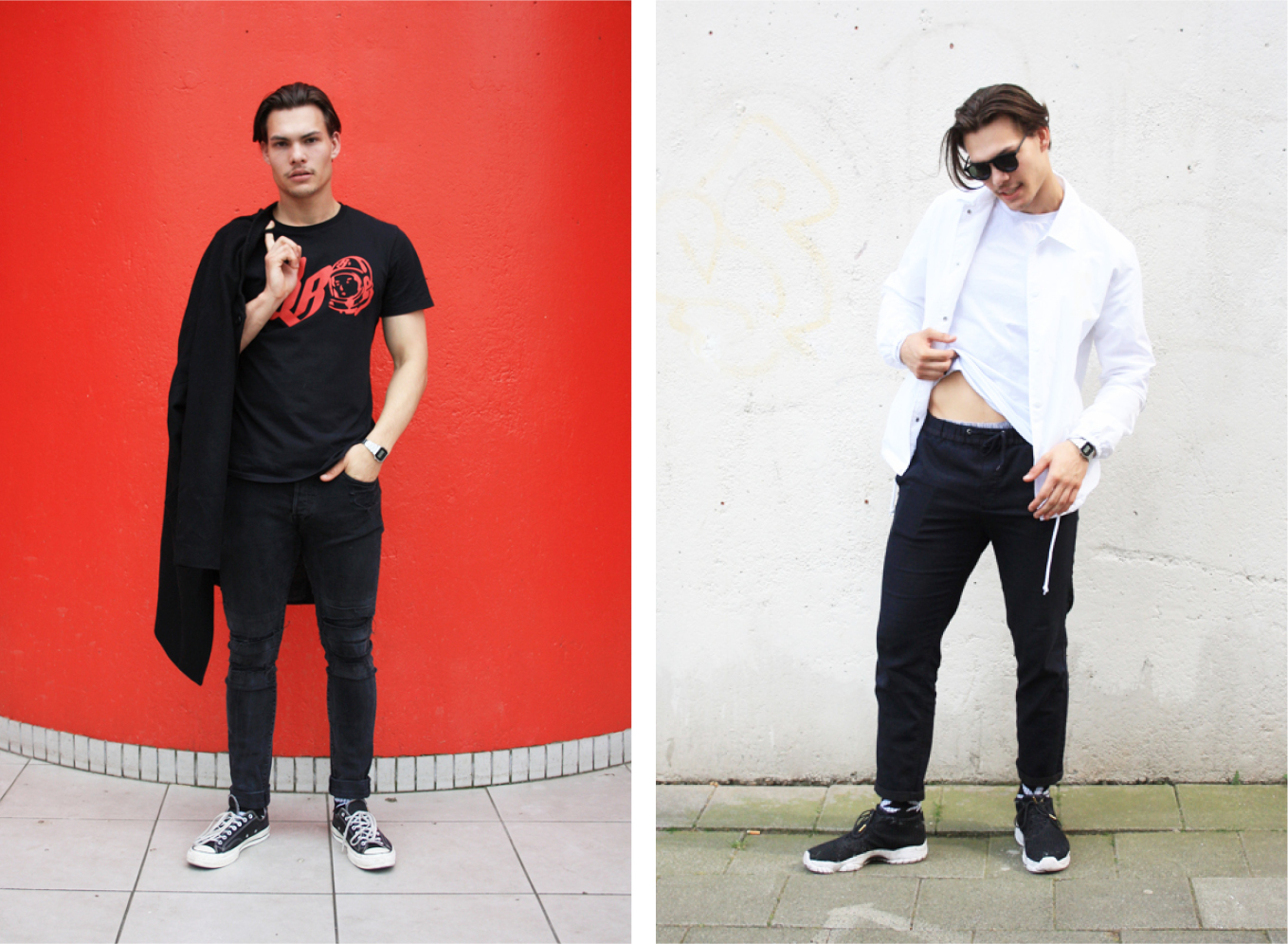 JORDIN CALOR (22)
CHUCK TAYLOR ALL STAR '70 // NIKE AIR JORDAN FUTURE BG GS
"When I bought these shoes, I thought I could wear them for years, maintaining them as clean as possible. But then again, that's just a thought: nothing could be less true. They maintained for a total of 4 days. Haha! I'm a real sneaker lover like the rest of the guys. Yet I can probably cope less well with my kicks than they do… That's why I'm very pleased the pictures were taken from a certain distance, so it doesn't show my muddy shoes that clearly. Thanks Niké for that! I've worn my Chuck Taylor's at a festival all day and they seriously look like they could just be thrown away for good. Luckily for me there's a washing machine! Let that do the cleaning for you. For this shoot I wanted to focus on the basic kicks. I don't wear a lot of striking colors when it comes to shoes, boring huh?! But even though my shoes aren't quite bright colored, I do like conspicuous clothing."
Pictures: Niké Donker
Concept and styling: Celeste van Joost, founder of Celmatique
Big thanks to all the ALL FOR THE KICKS men!