For some easier than others. How do you make sure it doesn't look too heavy? Or that it doesn't make you look like a 12 year old? A few tips

As long as I can remember I was walking around in the most unexpected combinations. One outfit bolder than the other. Usually I just come up with my looks instinctively, however wearing prints and colors is definitely something you can learn. In collaboration with Zalando its Editorial – I'm happy to share with you how!
CONTRAST
First: mix it up. Combine a subtle print with a more playful one. A black and white stripe pattern works really well with polka dots or a colored print / stripe, for example. The contrast makes it unexpectedly pleasing. Combining different styles also works very well, like the sporty Nike trousers I'm wearing, together with the elegant top from Diesel and the sandals.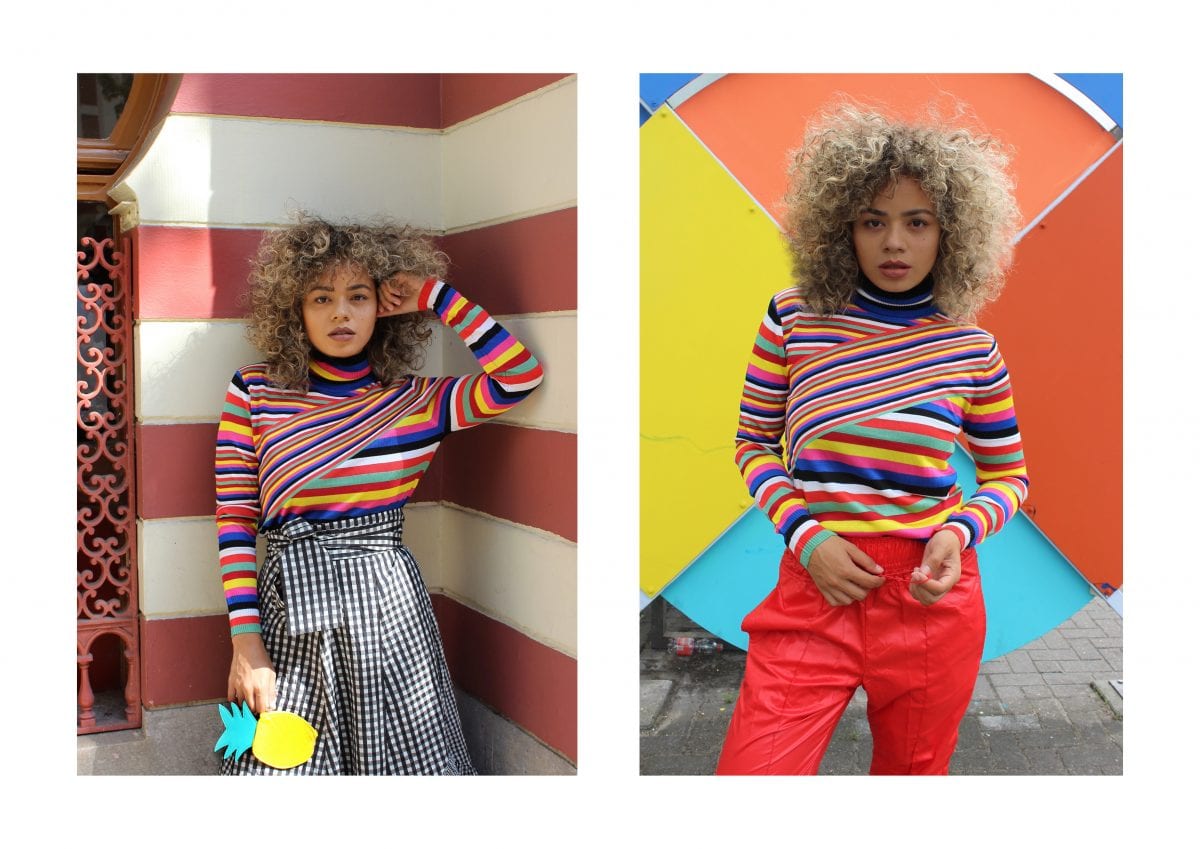 CONNECT
So, what about color? Always make sure that at least one color repeats itself somewhere else in your outfit to create unity. You could do this with your shoes, like the yellow sandals I'm wearing and the cheerful pineapple wallet. The yellow also appears in the blouse and striped top. If you are looking for a little bit more subtle: try the comeback color in the details. Earrings, a small purse, a hat, necklace. A great eye for detail can add just the right touch.

BEST COLOR COMBO'S
Not sure what colors are a great match? Bordeaux goes well with pink or cobalt bleu, brown with cobalt bleu, red and pink (for real!), (mustard) yellow with orange, and so on and so forth. These combinations are golden.
DRESS TO YOUR BODY SHAPE
But the most important of all: take a good look at the shape of your body. In general, this is the best tip I can give you. You are the one who knows your shape best and with that, what you think is the most beautiful about yourself. So, highlight what you love about yourself. And no, there's no way you can tell me you don't like any part of your body. I'm happy with my waist, for example. A little less with my legs. A midi skirt – tied on the waist – works very well for me. If you do like to show off your legs, choose a shorter skirt. Or an elegant slim fit pair of trousers with a print. Long story short: pick items that actually make you look better. That – ladies and gents – will make you feel a lot more secure about yourself. In the end, if you're happy from the inside, it shows on the outside. And that's al we need!